FEATURE:
TRAGIC FLAW by Hester Schell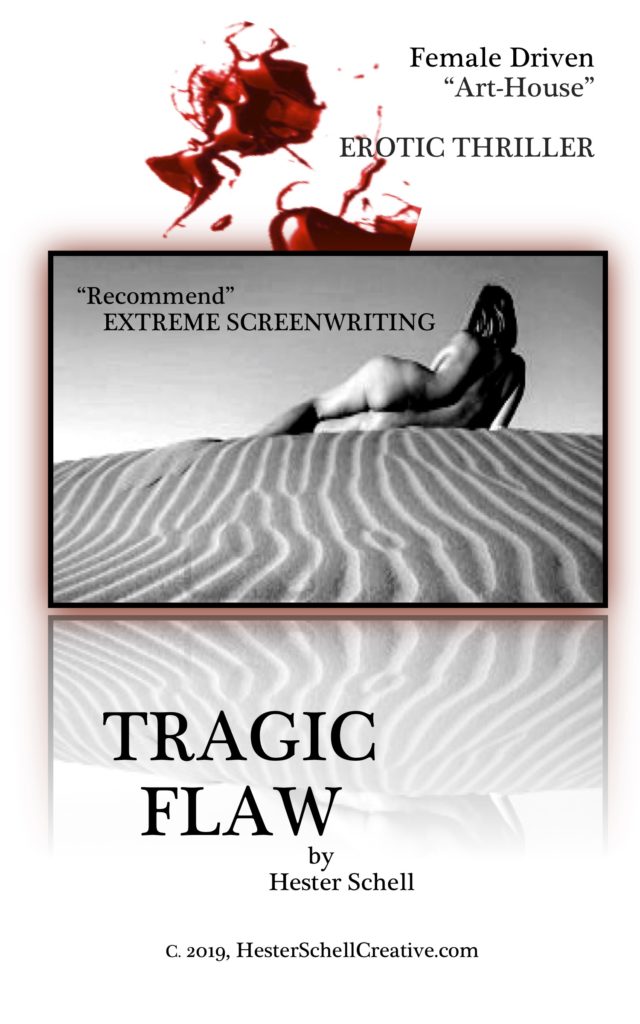 LOG LINE: Revenge is sweet. Infidelity is delicious. Getting away with murder? Just tragic. A jilted wife pays the ultimate price when her only child is caught in a jealous crossfire.
Erotic Thriller, likely "R" Rating.

Small cast, women leads aged 40+
"Recommend"
Extreme Screenwriting, Barb Doyon

……………………. ……………….. ……..
FEATURE:
INVISIBLE by Gabriell Debear Paye & Hester Schell
Diverse casting, with a strong female lead.
ExtremeScreenwriting.com: "recommend."
GENRE: Dramedy

LOGLINE:  A dedicated teacher feels invisible after she loses her job, husband and cat on her 50th birthday, until she embraces the people she's always ignored, and embarks on a journey to recreate her purpose, build community and find new love.


SYNOPSIS:
As HARRIETT turns 50, her worst birthday ever, the world shifts and people no longer notice her.
Harriett's husband runs off with a younger woman, she loses her job, and friends and family suddenly have no time for her. After a near mental breakdown she meets LIONEL, a one-legged street musician in a wheelchair, ignored everywhere he goes. She pursues him to learn about the rules of living for people who feel marginalized.
Harriett hits the streets to test Lionel's theory: Only invisibles see each other and they're everywhere.
A deep connection between Harriett and Lionel is sparked as they help a homeless teenager deliver a baby on the street. Then Harriett tracks down Lionel's lost-in-the-system prosthetic leg. Standing now on two feet, the attraction between them is strong.  But when Harriett's adult son won't accept her new boyfriend, Lionel leaves, thinking they are racist.
Harriett forges on, envisioning a way to support the disenfranchised she sees all around.
Using her divorce settlement, she buys a fixer-upper to create a community center and thwarts her ex-husband's luxury condo development on the same property. She puts homeless men to work fixing it up and helps the teen mother. On her 51st birthday, Lionel returns and "The Visibility Center" opens. Lionel and Harriett dance the night away.
When the invisible team up, they create a force that can't be ignored!

WRITING TEAM:
GABRIELL DEBEAR PAYE, M.A. is an optioned screenwriter who explores social justice and environmental themes, informed by parenting, teaching, travel and multicultural interactions. She studied at Emerson College and ScreenwritingU is a published author, 9-time contest finalist, and producer for the movie Pinsky.

HESTER SCHELL, M.F.A. is a 3 time script competition finalist, award-winning produced writer/director who writes social good and environmental stewardship stories with roles for mature women. She is the author of the critically acclaimed volume, CASTING REVEALED: A Guide for Film Directors. She writes a column at Script Magazine.
MORE FEATURES:
FINAL PASSAGE by Hester Schell
WGA # 1892166
GENRE – Female Driven, Faith Based Drama. Spiritual themes with ghost/love story. Environmental interest. G rating.
LOG LINE – The power of wilderness to heal the human heart: A grieving widow trades harsh Brooklyn for pristine Alaska after a life-changing summer solstice cruise where her husband's ghost bargains with God and Archangel Gabriel for more time.

COLONY COLLAPSE by Hester Schell
QUARTER FINALIST, ScreenCraft, Pilot Competition 2015.
LOGLINE – The next generation has a better idea on how to run the family farm: Grandma always said eat your vegetables. The food revolution has begun. The Circle of Life.

SUMMARY – This is the story of a family thriving on Phoenix Farm since before the Civil War. Rich soil, good conditions. Until now. Bee colony collapse disorder and fierce storms cut into profits. Encroaching suburbs threaten their way of life. Solutions have siblings at polar opposites, a family is pushed to the edge. Can they hang to their land? Can they farm in the 21st century? A beekeeper's love just might solve this family feud.
………. ………… … …………. . . .
SHORT FILM
WHERE'S MY DOG by Hester Schell
Dogs Rule, Size Matters. FARCE. Acerbic wit and rapid fire dialog.
2 Principal Characters.
1 Location
LOG LINE: Where Fashion and Film intersect.
Tiny Nancy, a beautiful great dane, is the only dog left at the groomer's when a Hollywood trophy-wife, ready for a red carpet event, makes a quick stop to fetch her "purse-pooch," all designed as part of her husband's big movie deal. Lordy what a nightmare.