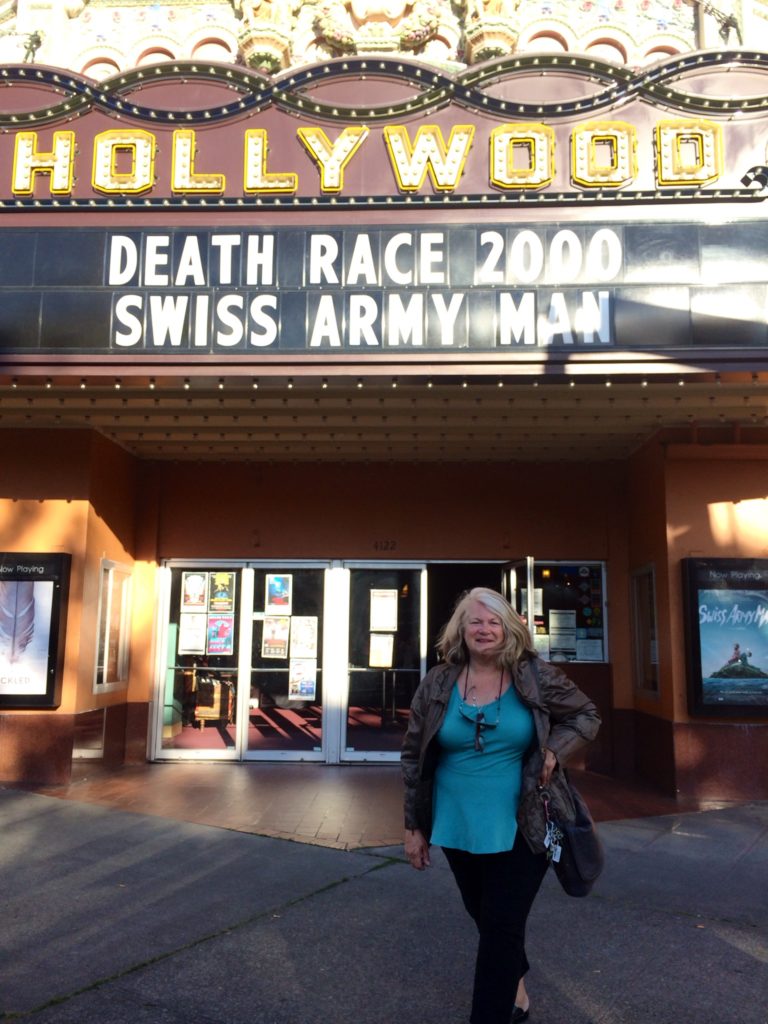 Optioned screenwriter, produced screenwriter, award winning director, producer, teacher. Available for lectures, workshops and presentations designed to suit your group's needs. Flexible rates to fit your budget.

HIGHLIGHTS
35 + years. Performing arts and film/video teacher, acting coach, mentor, tenured college professor, seminar instructor, comedy coach.

35 + years. Stage and Film Director/Producer.
Writer: scripts, comedy, prose.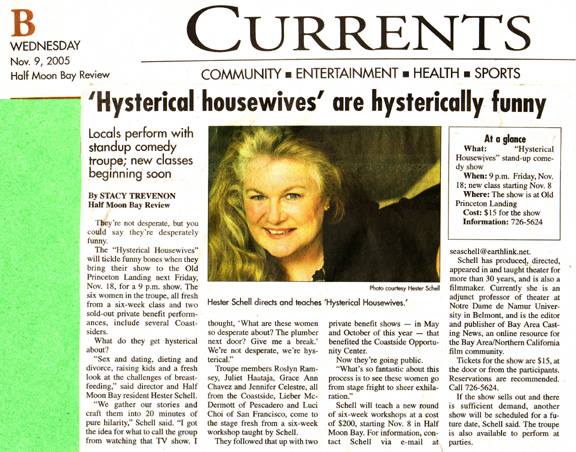 SCREENPLAY COMPETITIONS.

AWARDS: THEATRICAL PRODUCTIONS
Same Time, Next Year by Bernard Slade
Directed by Hester Schell
Benicia Old Town Theatre Group
2014 ARTY AWARDS, Solano County
Best Director, Best Actress, Best Actor, Best Comedy

Singulariteen by Patrick Brennan
Undefined Symbol Theatre Company
Directed by Hester Schell
Best of Show, 2013 San Francisco Fringe Theatre Festival
Winning Director + 4 sold out awards

Sandwiched by Hester Schell (short film)
Audience Award, May, 2018
Best Shorts Competition, Dec. 2017
Lunatique Fantastique Puppets
San Francisco Fringe Festival, 2004 BEST OF FEST
A COUPLA WHITE CHICKS SITTIN' AROUND TALKING by John Ford Noonan.
New Rose Theatre, Portland, OR          
KKSN Radio – Best Performance by a Leading Actress 

JULIE, JULIE (short film, actress)
Audience Award, Best Short – Rochester Film Festival
        
Documentary and short narrative film producer/ director with festival and distribution credits.
MEMBERSHIPS:
Screen Actors Guild-American Federation of Television and Radio Artists
Harvard Square Script Writers
International Screenwriters' Association
Portland Playwrights
Phi Kappa Phi Honor Society

FORMER MEMBERSHIPS:
Film Arts Foundation
UNIMA, International Puppeteers
Puppeteers of America
American Theatre in Higher Education Theatre Bay Area, San Francisco
OMPA – Oregon Media Producers Association

EDUCATION
Master of Fine Arts – University of Utah, Salt Lake City, UT
Phi Kappa Phi Recipient: Graduate Teaching Assistanship
Bachelor of Arts – Portland State University, Portland, OR
High Honors
Conservatory Training –
Trinity Square Repertory Conservatory, Providence, RI
Recipient: Lotta M. Crabtree Scholarship
Associate of Arts, Acting
American Academy of Dramatic Arts, New York City, NY
Recipient: Scholarship
I've had the privilege of teaching (film, theatre, directing, acting, dramatic literature, puppetry, physical theatre, stand-up comedy) for a variety of full time academic programs as well as vocational adult education and art school. Full CV on request.
ACADEMIC INSTITUTIONS:
De Anza College: Professor of Theatre/Film. Full-time, tenured.
Notre Dame de Namur University: Adjunct
St. Mary's, Moraga: Guest Lecturer
San Francisco State University: Guest Artist
University of Utah: Graduate Teaching Assistant
Portland State University: Guest Artist

VOCATIONAL PROGRAMS/ART SCHOOLS:
Art Institute, San Francisco
San Francisco School of Digital Filmmaking
Film Acting Bay Area
Film Arts Foundation
Portland (OR) Actors Conservatory
Theatre Workshop (Portland, OR)
Provincetown Theater (MA)